By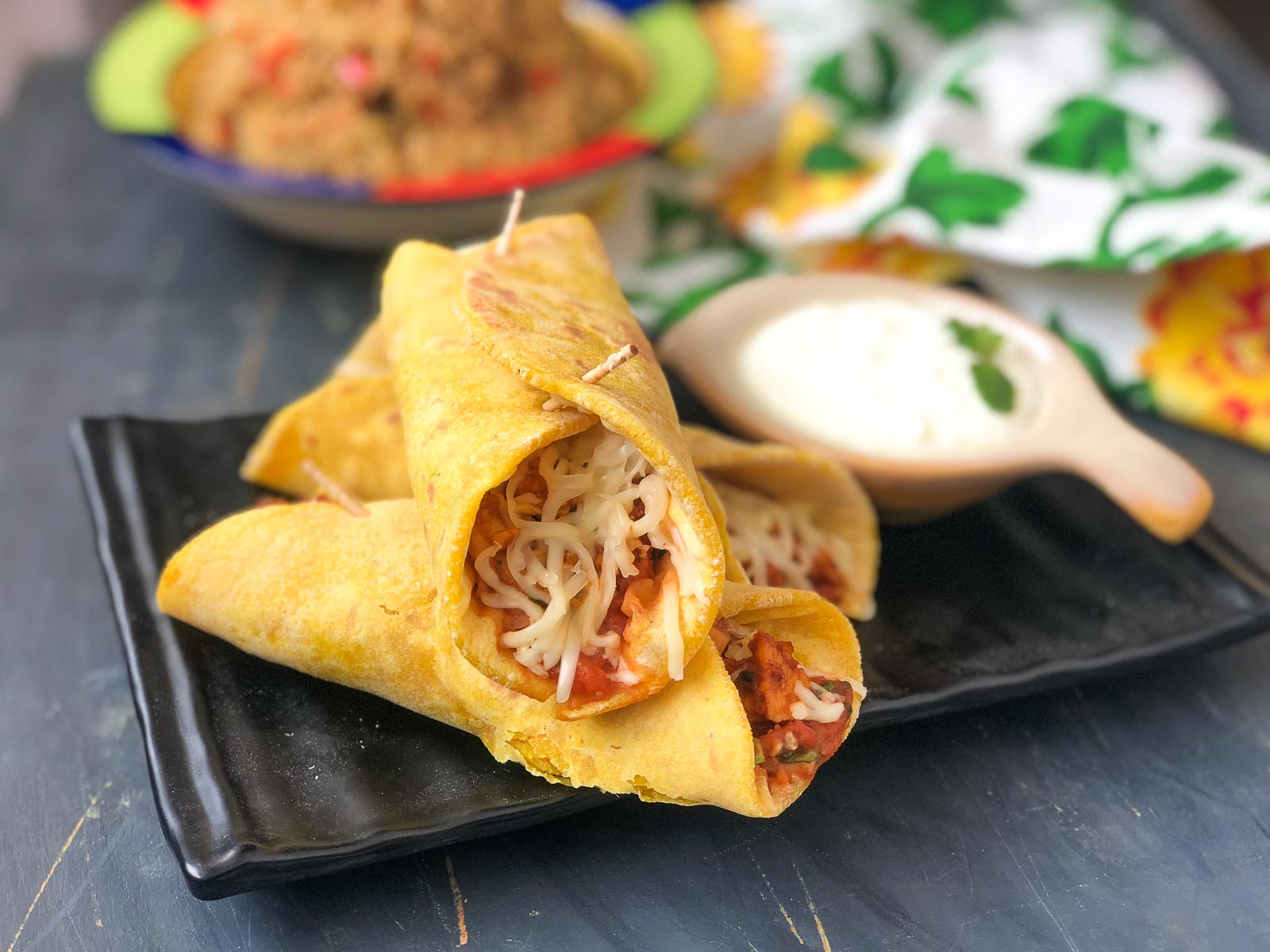 Ingredients
4 Tomatoes
1/3 cup Onions , finely chopped
1 Green Chillies , finely chopped
1/4 teaspoon Cumin powder (Jeera)
Salt , to taste
1 teaspoon Sugar
Coriander (Dhania) Leaves , a small bunch finely chopped
2 teaspoons Tabasco sauce
1/4 cup Homemade tomato puree
1 cup Makki Ka Atta (Yellow Corn Meal Flour)
3/4 cup All Purpose Flour (Maida)
Salt , salt to taste
Water , water as required
1 tablespoon Olive Oil
300 grams Chicken breasts , cut into small strips
6 cloves Garlic , chopped
2 tablespoons Taco seasoning
1/2 cup Cheddar cheese , grated
How to make Chicken Taquitos Recipe – A Classic Mexican Appetizer
To begin making the Chicken Taquitos Recipe, we will first make the tomato salsa.
To make the tomato salsa
We will first cook the tomatoes in a pressure cooker. Add half the tomatoes and place it in the pressure cooker along with 2 tablespoons of water. Allow it to pressure cook for 2 whistles.
After 2 whistles, turn off the heat and allow the pressure to release naturally.
Once the pressure releases, open the cooker, drain out the excess water and allow the tomatoes to cool completely.
Once the tomatoes are cooled, peel the skin off the tomatoes and chop them fine.
Place the chopped tomatoes in a mixing bowl. Add the onions, green chillies, salt, sugar, cumin powder, Tabasco sauce, tomato puree and coriander leaves. Mix the tomato Salsa well to combine. Check the taste and keep the Mexican salsa aside.
To make the Chicken Taquito Filling
Heat a skillet with oil, on medium heat, add the garlic and saute till it releases flavours for a few second. Add the chicken, 3 tablespoons of the freshly made tomato salsa, mix well and allow the chicken to cook until it is tender and just about done. This will take about 3 to 5 minutes.
Once done, add salt and taco seasoning and continue to cook for about two more minutes, until the chicken is well cooked.
Transfer Chicken Taquito Filling to a bowl and set aside.
To make the corn tortillas
In a medium bowl, mix together the maize flour, all purpose flour, salt and mix well.
Make a smooth firm dough using the required amount of water. Knead for a good 5 minutes until the dough is smooth.
Place the dough in a bowl, cover with a tight fitting lid or a plastic wrap and allow it to rest for half an hour.
Preheat a cast iron skillet or or a heavy bottomed skillet.
Divide dough into 6 to 8 to equal size balls. Using a rolling pin, dust the dough portions on flour and roll out into a 6 inch diameter circle.
Place the rolled out tortillas on to the preheated skillet and allow to cook for approximately 30 seconds.
Flip over to the other side and cook the tortillas.