By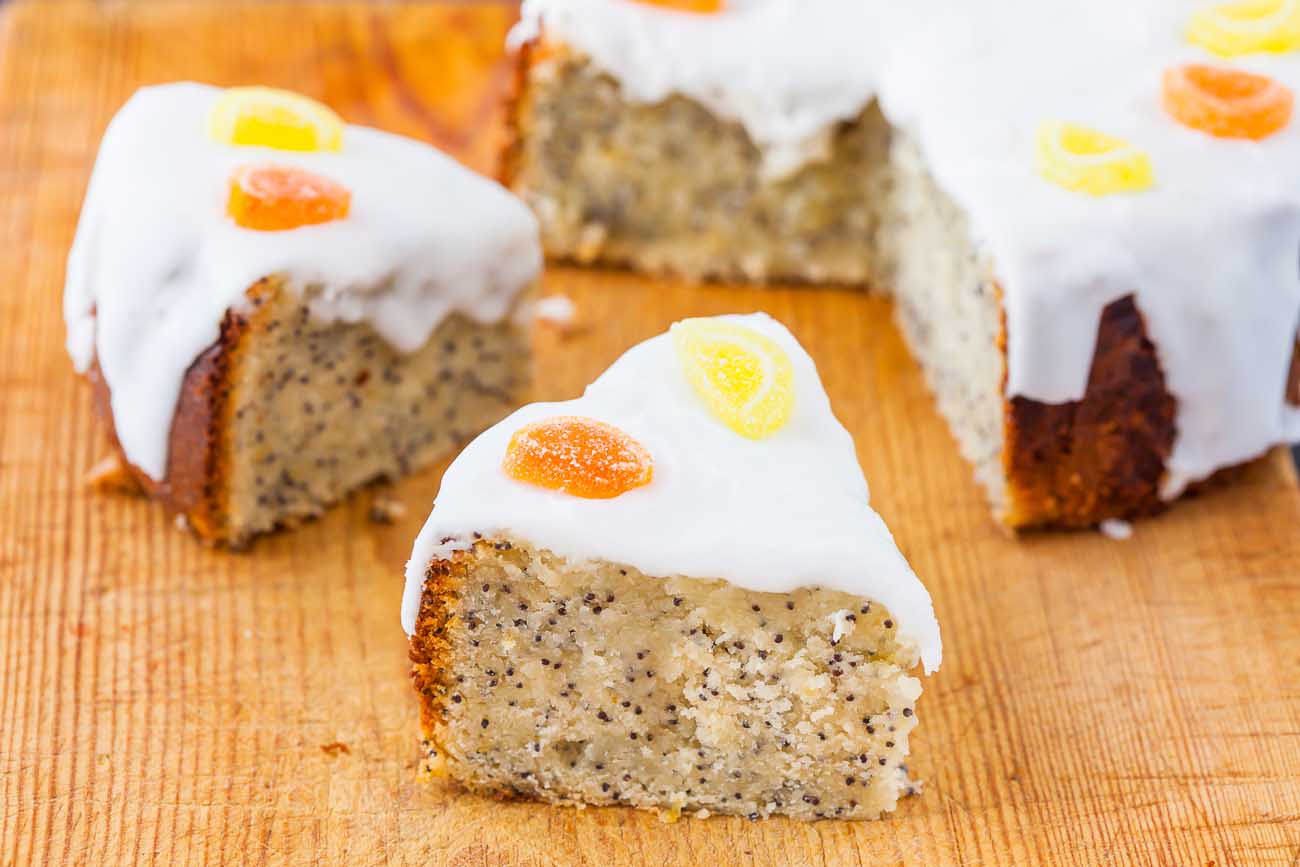 Ingredients
1/2 cup Butter (unsalted) , (Vegan: 1/4 cup grapeseed oil or coconut oil or olive oil)
1-1/2 teaspoon Baking powder
1/4 teaspoon Salt
3/4 cup Caster Sugar
1 teaspoon Lemon zest
2 tablespoons Lemon juice
3 tablespoons Curd (Dahi / Yogurt) , (Vegan: 2 tablespoons soy yogurt or 2 tablespoons applesauce or coconut yogurt)
2 tablespoons Poppy seeds
1/4 teaspoon Salt
1-1/4 cups All Purpose Flour (Maida)
2 tablespoons Flax seed powder (flax meal)
6 tablespoons Chilled water
1 cup Icing Sugar
2 tablespoons Lemon juice
How to make Eggless Lemon Poppy Seed Cake Recipe -Vegan Option
To begin making the Vegan/ Eggless- Lemon Poppy Seed Cake, we will first preheat the oven to 180 C and butter and dust a 8 inch round cake pan and keep aside.
To make the Flax Meal Egg Replacer
If your recipe asks for 2 eggs, measure 2 tablespoons of flax meal along with 6 tablespoons of water. Stir well and let the mixture rest for about 15 minutes. This process of resting helps the flax meal mixture develop a gelatinous consistency similar to eggs.
To Make the Batter
In a large bowl or the bowl of a stand mixer, whisk together butter (oil), sugar, baking powder, lemon zest, lemon juice, salt, flax eggs until light and fluffy for about 40 seconds. You will see the mixture begins to foam as the lemon juice reacts with the baking powder.
Gradually beat in the yogurt (or apple sauce), poppy seeds and flour in that order and beat until just combined. Do not over beat. The cake batter will be thick and not be pour-able but if it is too dry then add in just a bit of yogurt (almond milk or apple sauce).
Transfer lemon poppy seed cake batter to prepared cake pan and place it in the preheated oven to bake for about 30 minutes or until a tester like a wooden pick or knife inserted in center of cake comes out clean.
Once the cake is baked, remove from the oven and allow it to cool in cake pan for about 5 minutes.